Visiting 5-minutes coffee won't let you down with their interior ambiance. The store is designed with a modern industrial style combine with lush green corners, which will definitely bring you a whole new experience!
A green coffee shop - A fresh experience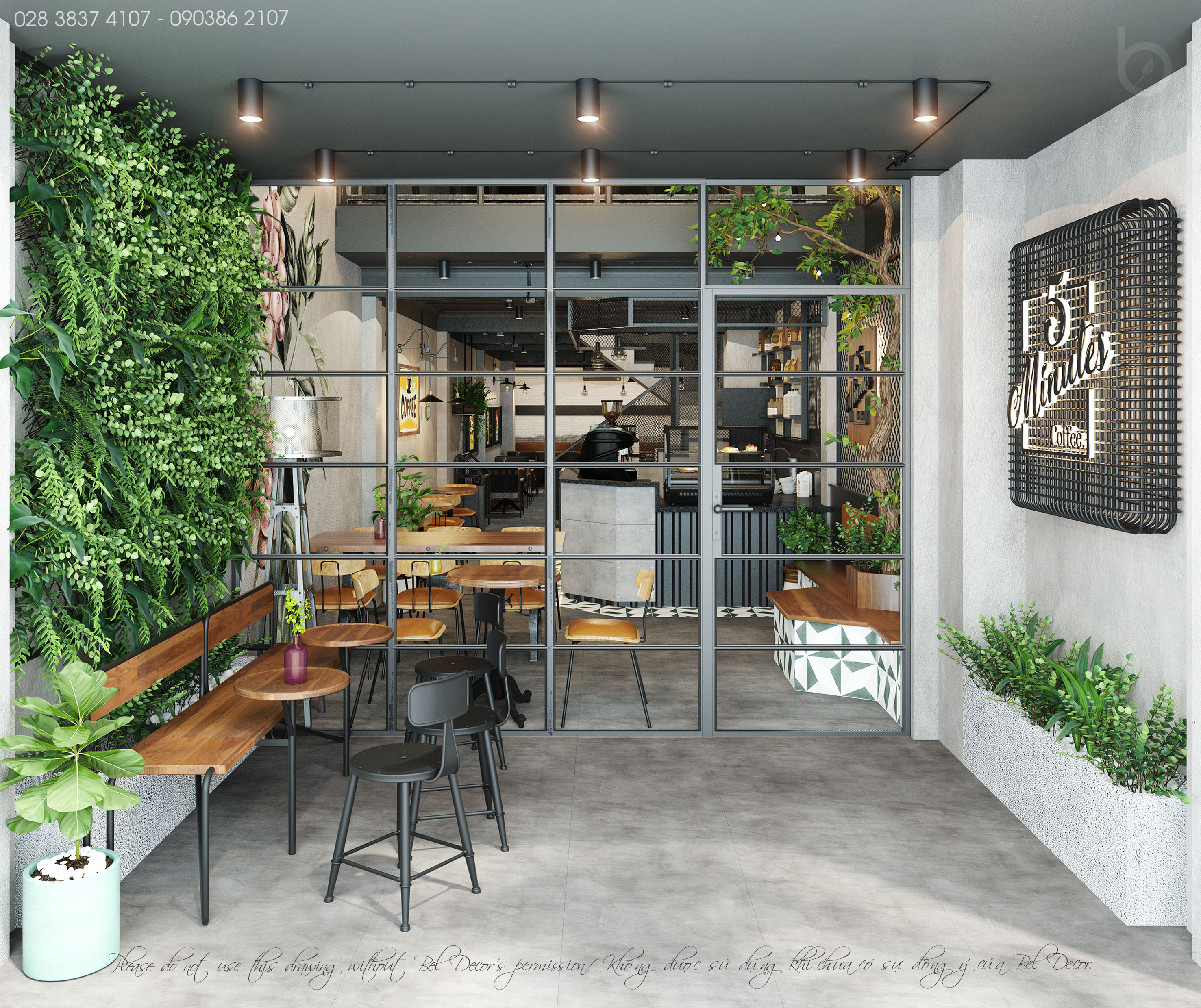 Green space is a common design trend and it is gradually gaining more popularity in recent years. This coffee shop has caught up with the trend and they are sure to bring their customers an amusing and unique experience.
Elevation design - The contemporary industrial design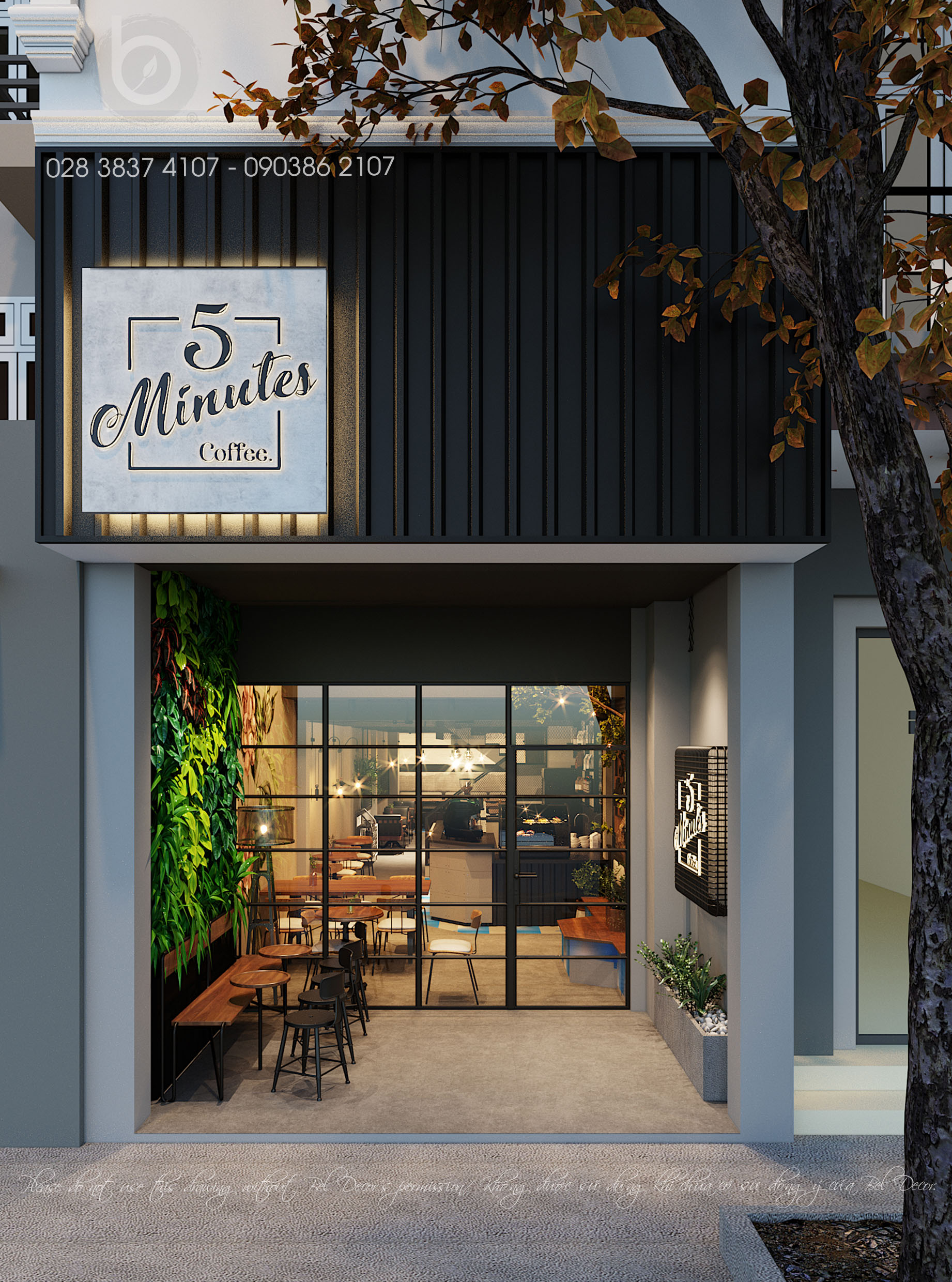 Black-painted aluminum is the chosen material for the elevation design, which will minimize redundant decoration. The coffee shop displays a spacious front side as well as a comforting and pleasant outback.
An energetic and heartfelt internal atmosphere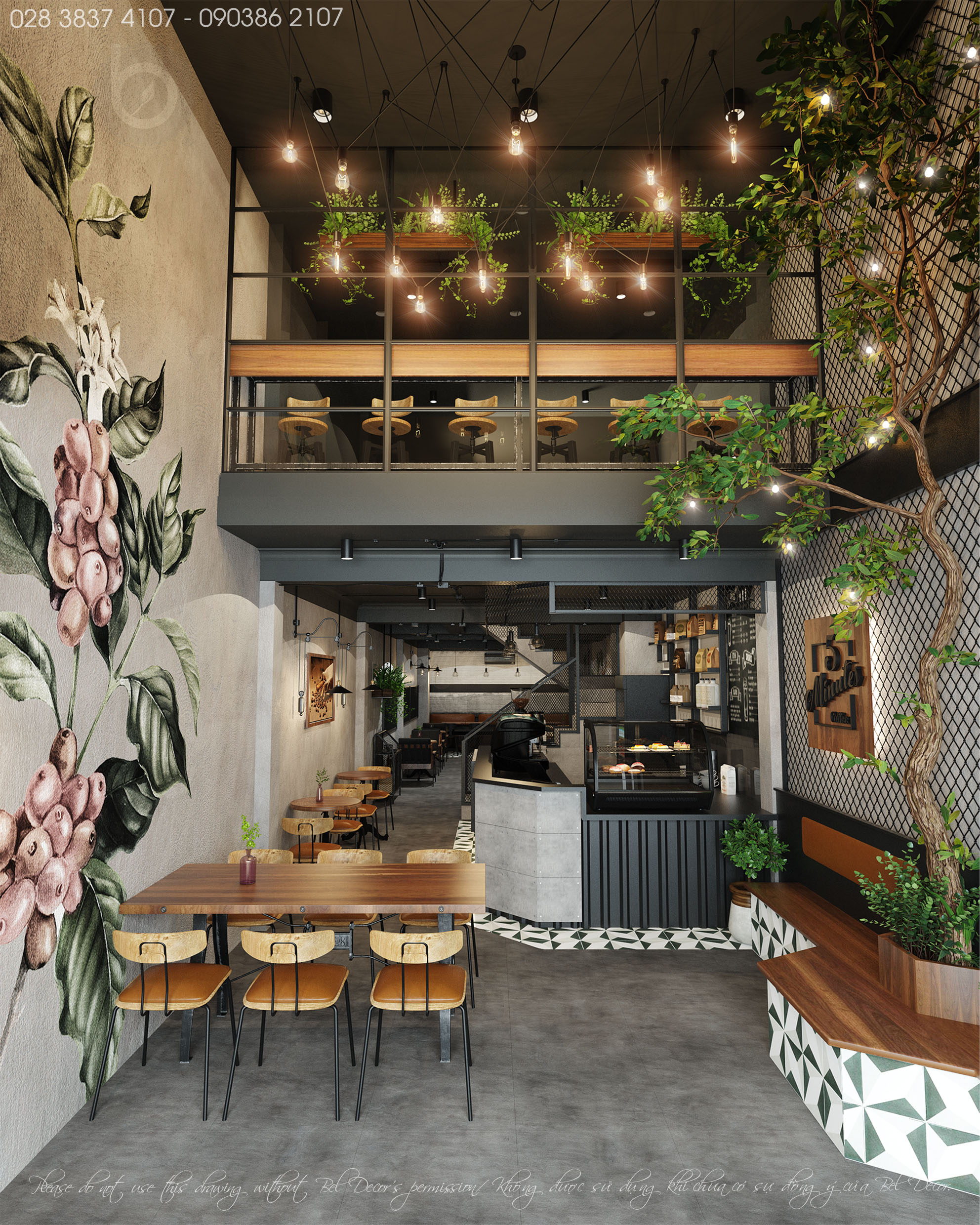 After stepping inside, you will right away feel the dynamic energy that the chosen design brought out. The contemporary industrial design not only emphasizes a state-of-the-art layout but also a vigorous spirit.
Cashier stand - Simple yet efficient with black tone color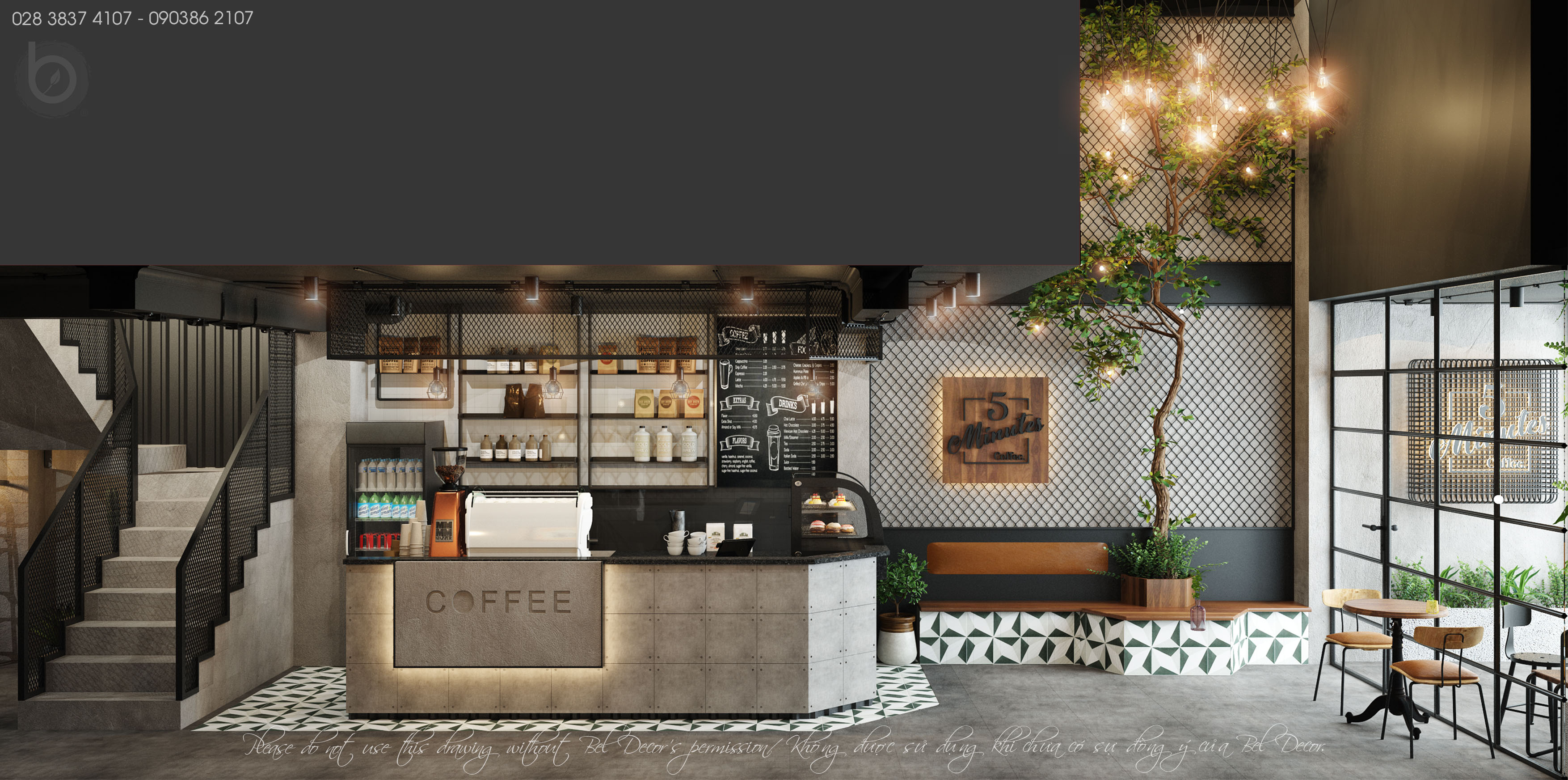 The selected main color tone of the cashier stand is black onyx combines simple and rough materials such as cement and black-painted steel grid to boot.
Industrial-style furniture - a trend with an open and free style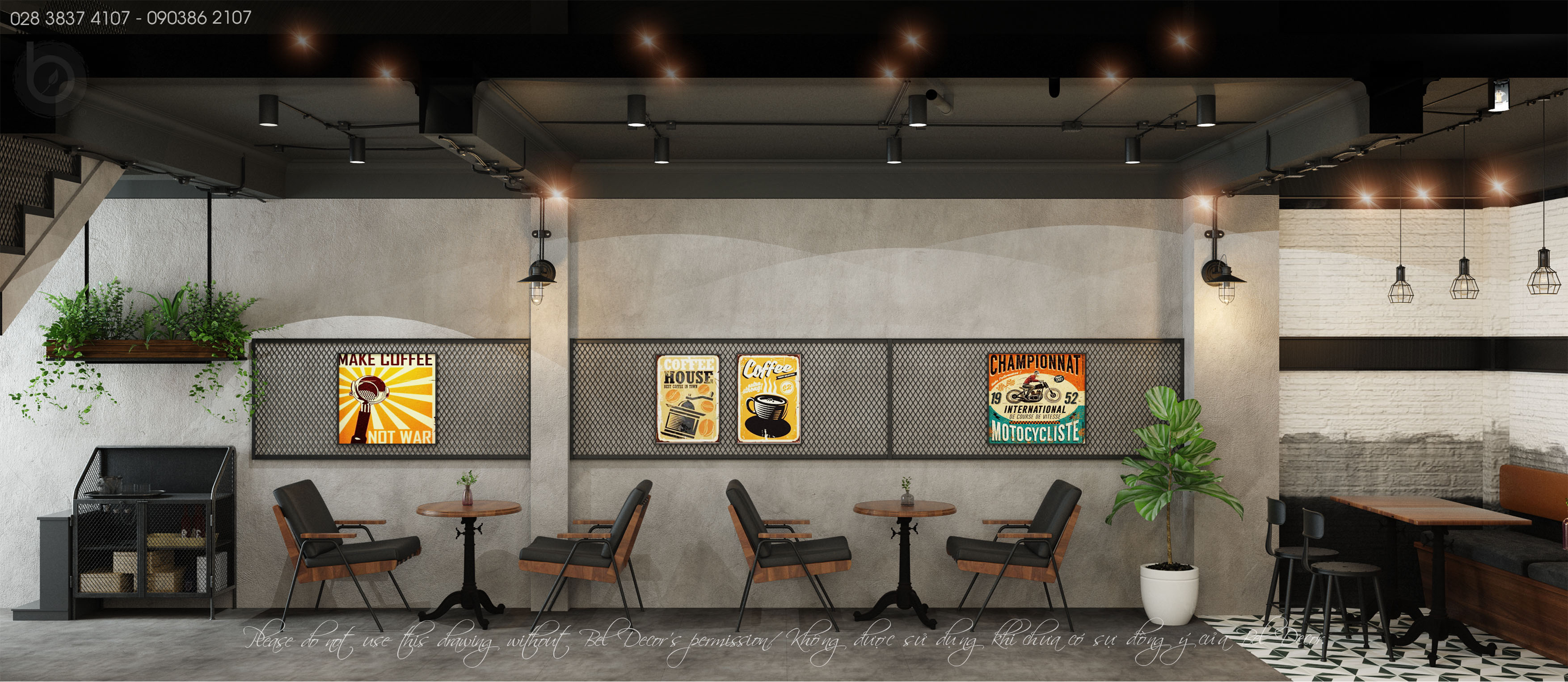 Tip: In order to tone down the overly energetic vibe of the industrial layout, you can use retro-style pictures or inspirational slogan.
Uplifting mood with lively wall-painted pictures

In addition to the retro-style pictures, wall-painted pictures are used in 5 Minutes Coffee. The theme of every picture is taken into consideration to suit the ideas and theme of the whole shop.
Basic and rugged materials in an open and inspiring space

The most compatible material to incorporate with industrial-style furniture is absolutely cement. Cement not only perfect the walls but also the floor and stairs.
Youth-oriented design: a fusion of coffee and work place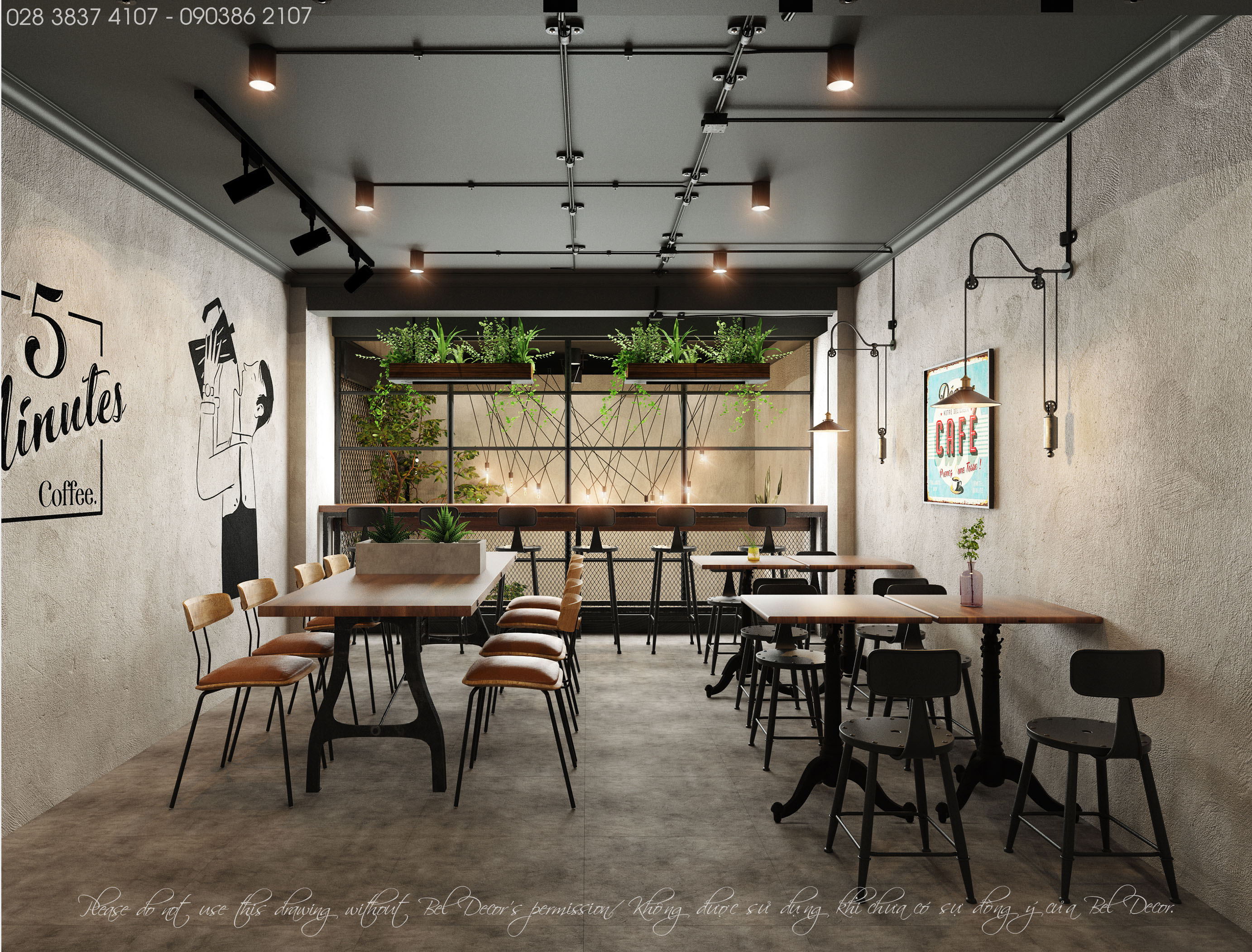 The design and style selection for the coffee store must be taken into consideration so that it would please the target customer. 5-minutes coffee aims for youthful and robust people bursting with active energy, therefore, it is sensible to include both single tables and ones that can be used by groups.
Let see more articles about beautiful design and construction project of Bel decor!
Bel Decor|Quality With Creativity