Apartment housing is a popular type of housing in urban cities which have crowded population density. The modern living lifestyle is bringing this kind of house developing rapidly. However, the current apartments mostly aim for profit without caring for interior design. If you are intending to decorate or renovate your apartment, this article is a meaningful gift for you. The Apartment in this article is designed toward a modern and snug style that is suited to anybody.
Desiged & Constructed by: Bel Decor
Add: The Everrich Infinity, Dist. 5, Ho Chi Minh City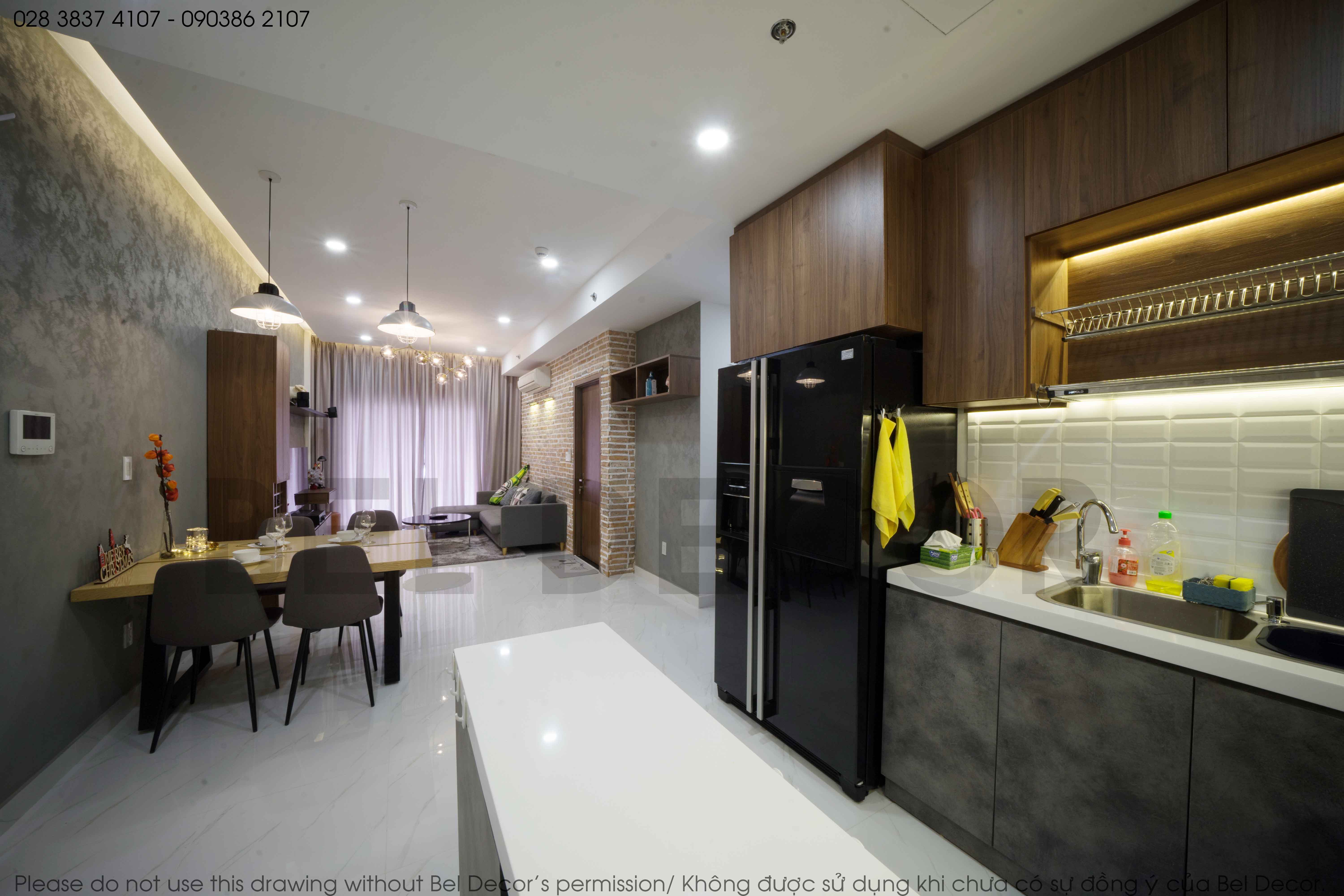 Luxury living room space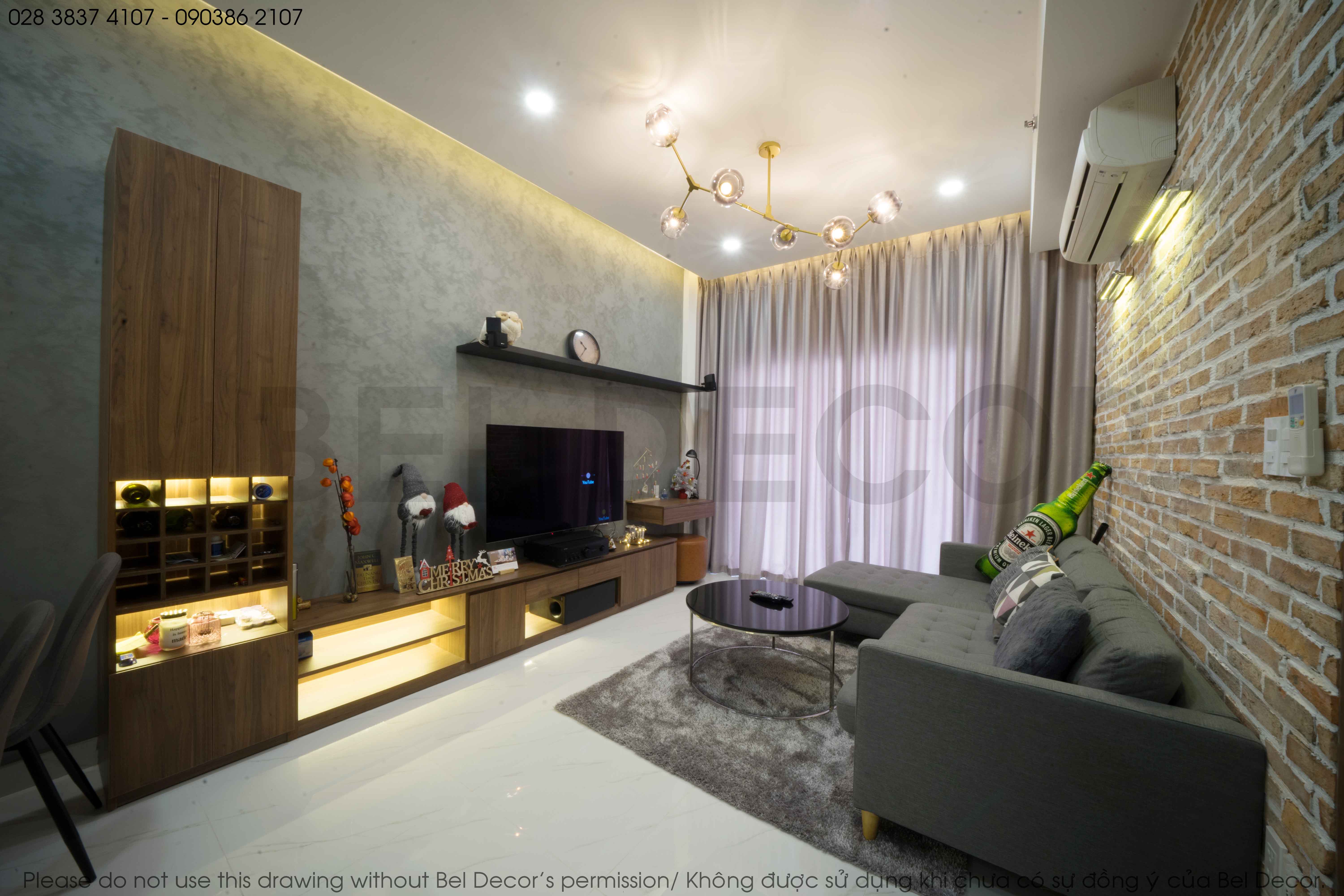 Living room seems to be the most important space in the house. The interior of/in this design uses neutral tones, that white and gray are the main theme. These tones are also suitable for your modern style apartment. Besides, designers are skilled in selecting the furniture made from wood to increase the cozy of living space.
Modern kitchen follows industrial design style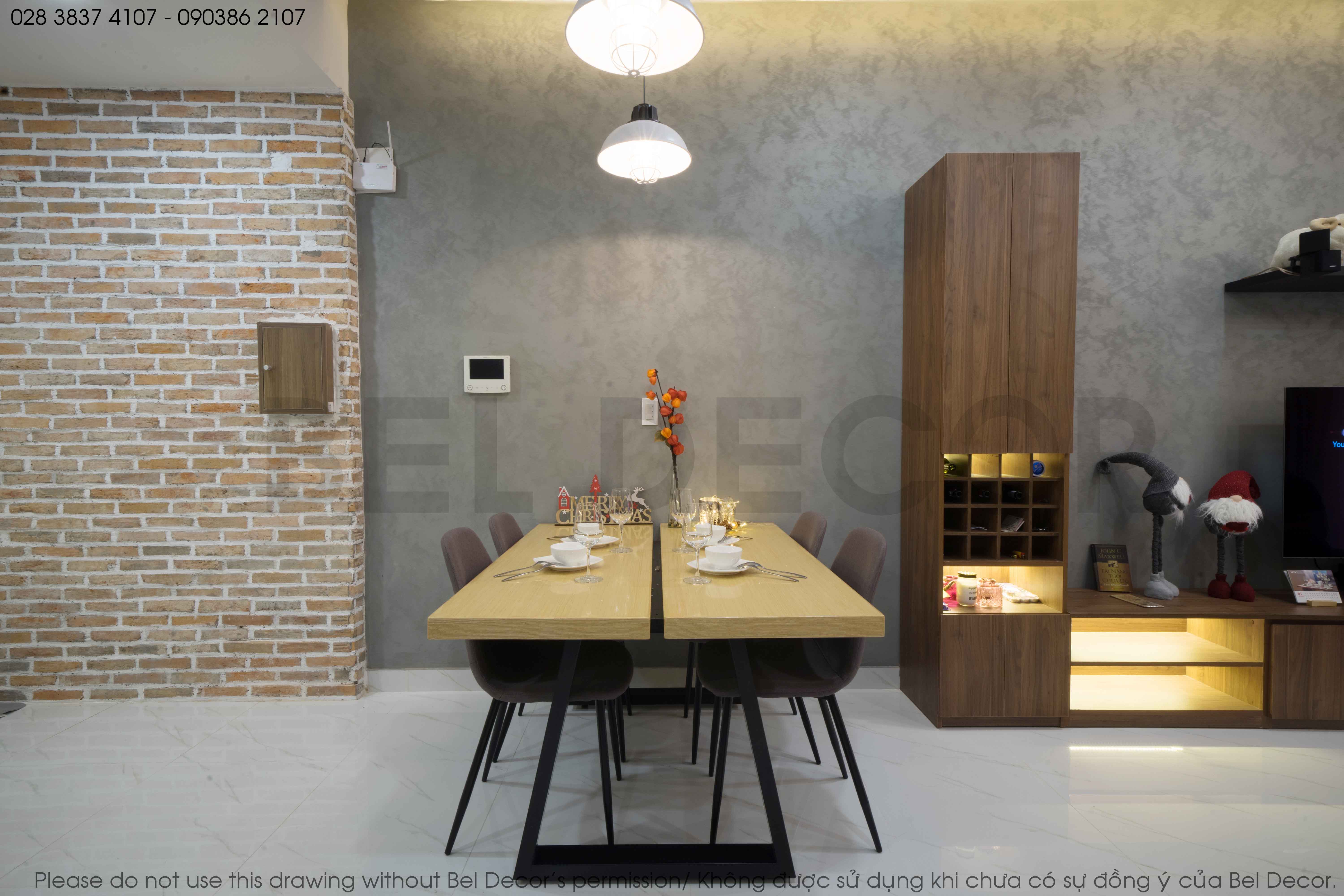 The kitchen area is organized continuously with living room space, to create airy feeling and spacious for your apartment. The colors and materials of the dinner table are also match the overall design of the house. With the completed cement brick walls, by using wood and black painted steel frame furniture is a great suggestion if you want to pursue an interior design inspired by industrial and modern style.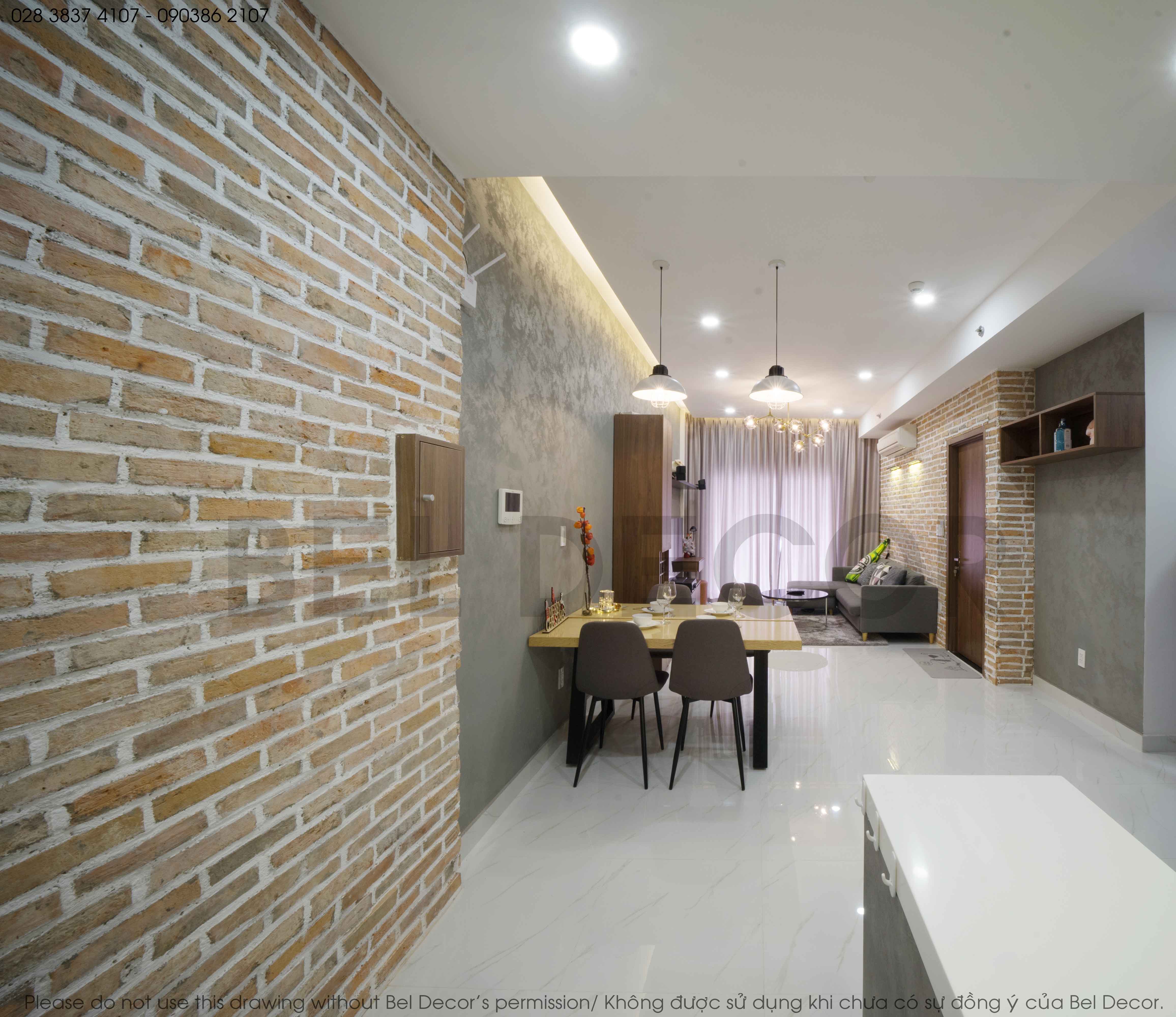 Planning reasonable space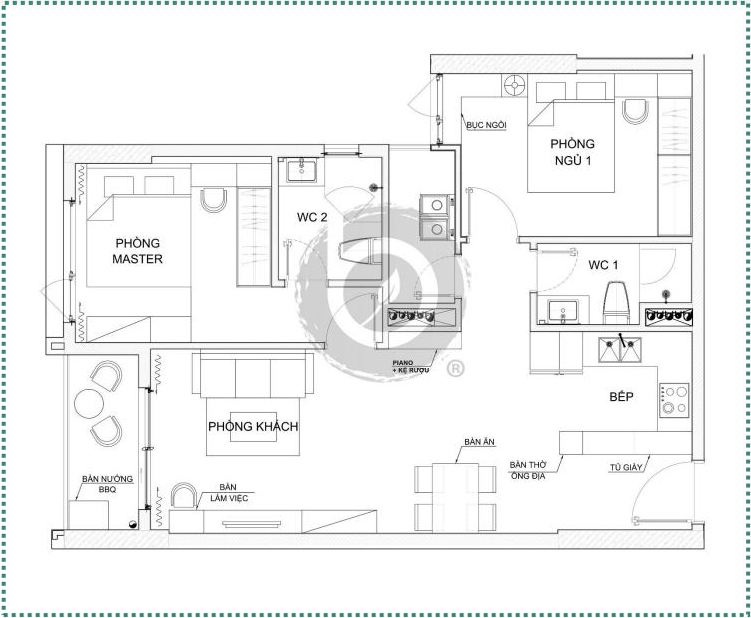 The layout of apartment is organized reasonable so the design professionals do not have to modify much on the overall plan of the accommodation. You can find that most of all space is accessible to natural light source, linked with each other closely and flexibly.
Master bedroom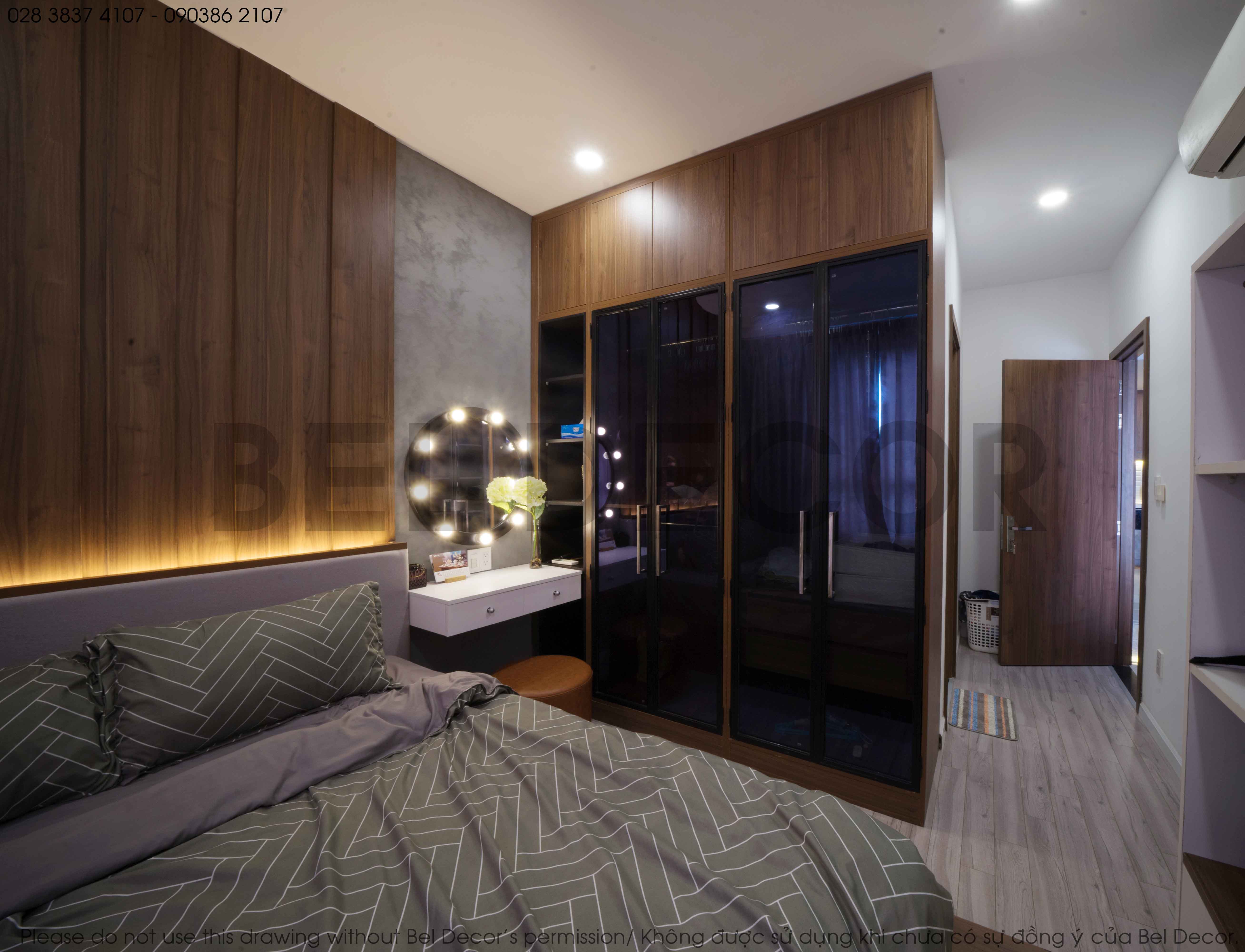 Master bedroom is a significant area, which should be prioritized to arrange near outside to take full advantage of light and ventilation as natural as possible. This bedroom is decorated in accordance with modern and sophisticated spirit of the apartment. With the wood furniture mainly used to create intimate feeling for bedroom, the central highlight is the circular mirror arranged with unique light in above the dressing table. It is not too difficult to make the bedroom space becoming to be more interesting, isn't it?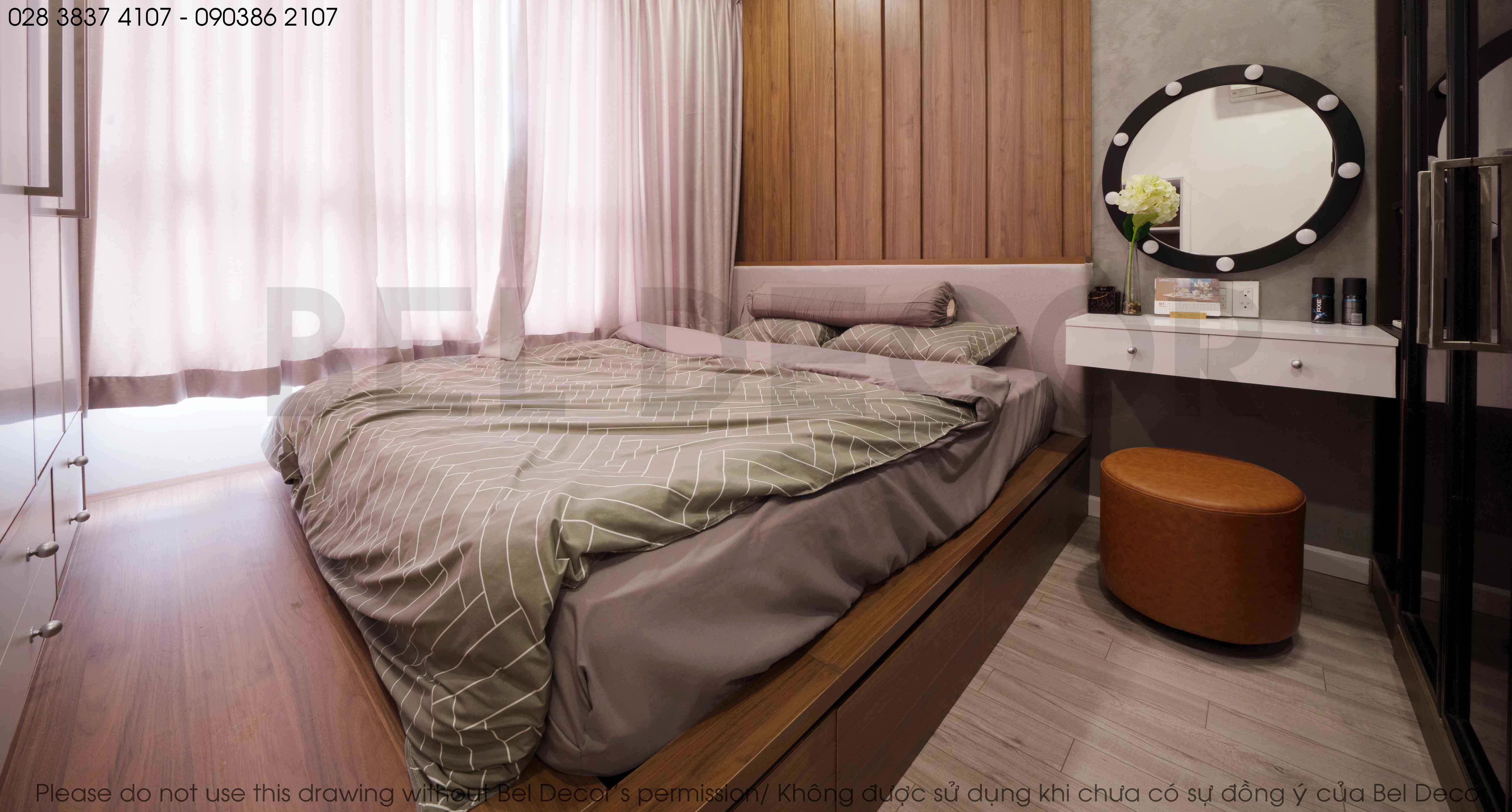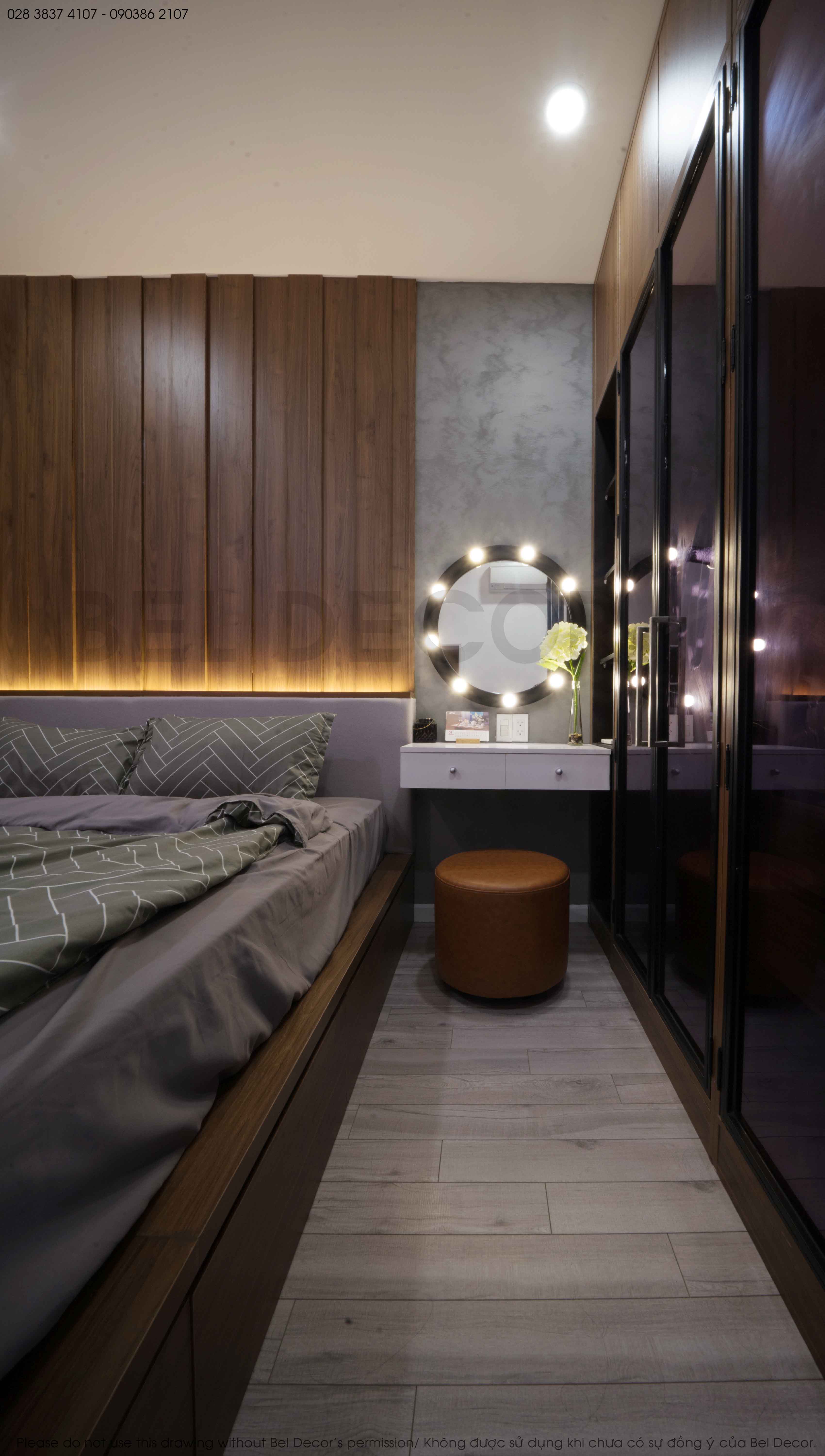 The regular bedroom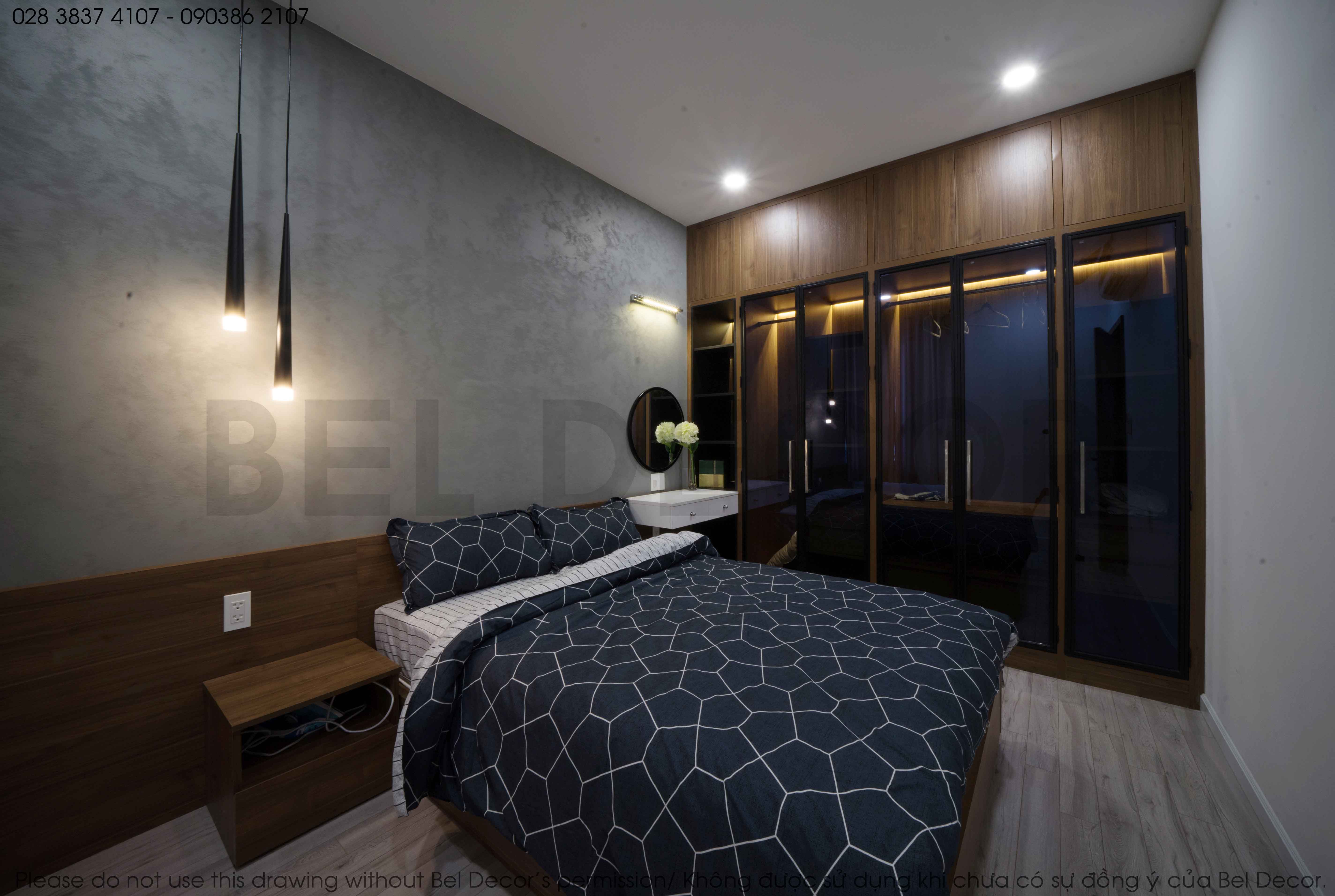 Next to master bedroom is the other regular bedroom of the apartment. Although the location is not as nice as the one of master bedroom, this regular bedroom is still invested and designed precisely. By changing the blanket and pillow's pattern only, the room has become different immediately. However, the language and color of the room still follows the design of the apartment.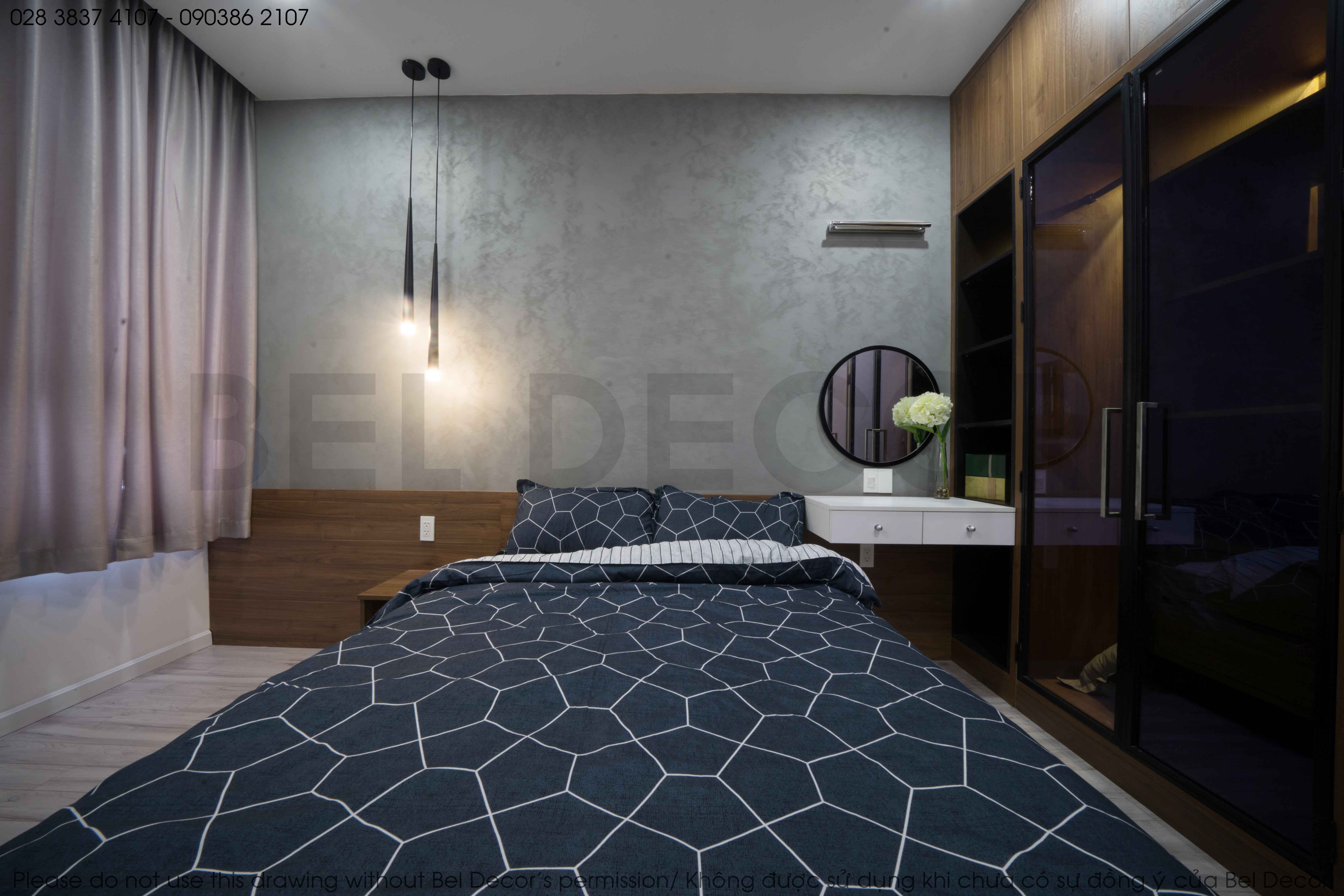 Designing of bathroom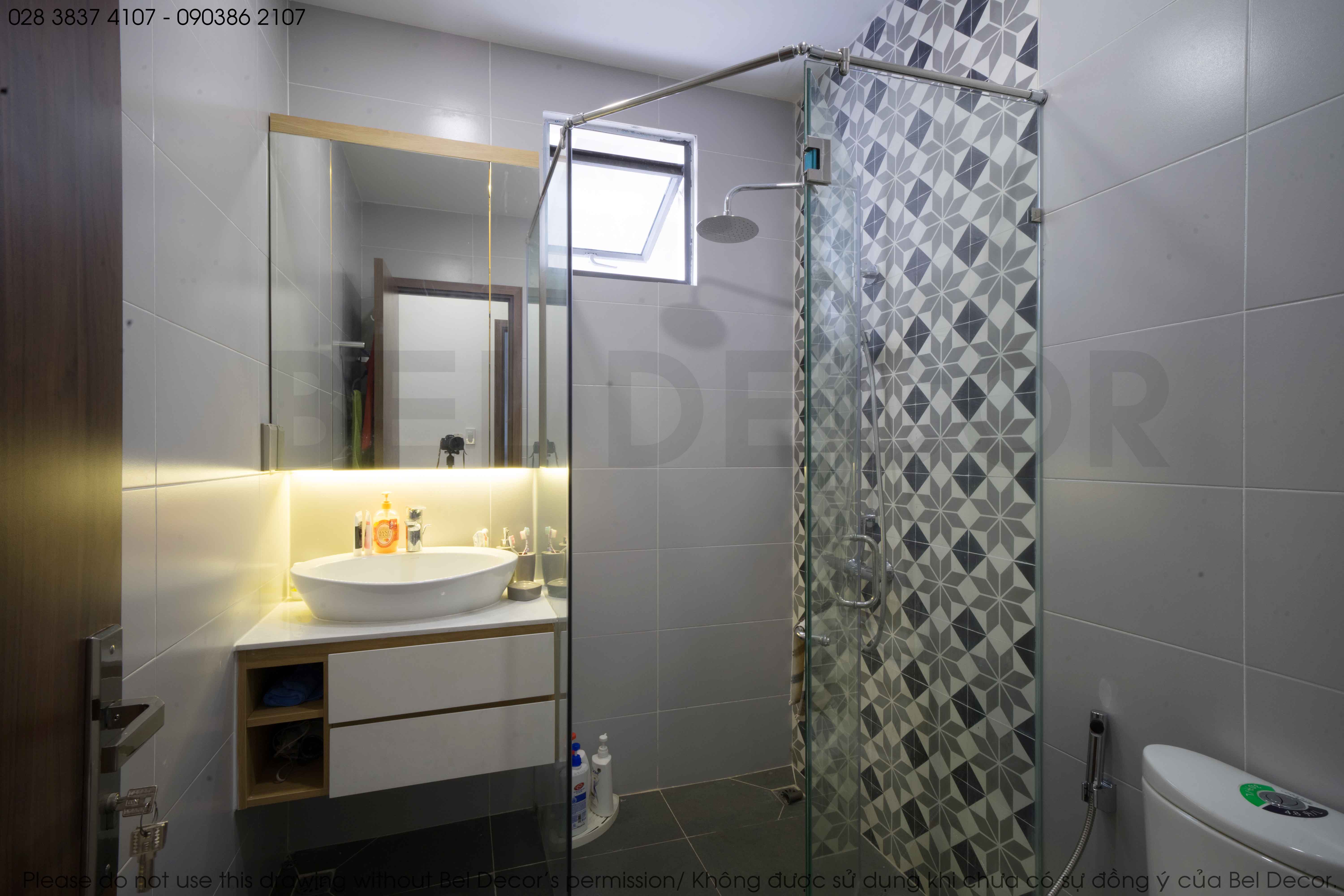 Bathroom is also a space where lots of people interested in designing of the apartment. In here, bathroom is very convenience and furnished full of natural light source. With the highlight is flowered tiles with eye-catching pattern, the room becomes much more alive.
Let see more articles about beautiful design and construction project of Bel decor!
Bel Decor - Making Difference - Bringing Value